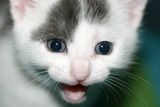 "YYYYAAAAAYYYY!!!!1!!!!1!!!!!"
Said the Itty Bitty Kitty Committee Secretary of Finance.
"Now we can get treats for our staff party without breaking the piggy bank!
big bags of mini cookies ROCK OUR 'TOCKS!!!1!!

You heard the kitty, debuting this Sunday,
Mini cookies in lots of fan-tabulous flavours!

Keep checking back here for an updated menu and the latest news as it comes out of the oven.